Although Netflix has been available for some time, it can support Windows, Mac, and Linux platforms at the same time. I believe that the biggest problem that many movies and TV fans have encountered so far is that Netflix wants to watch 1080p in high resolution, but it cannot be viewed on Netflix Chrome, Firefox and Opera browsers, and the maximum is only 720p. However, what can we do about it? In addition to switching browsers, what if you insist on using Chrome to watch Netflix movies in 1080p resolution? This tutorial will teach you how to break through this limitation.
Netflix is can't let's go manually adjust to watching the quality, the consequences will lead to the preset quality with piracy, picture quality is horrible to describe, although the official has taught you can set the "play" through the adjustment data usage, Netflix will according to our Internet speed to automatically switch quality, but after the mad Mr Test, is used in the generation of Hua 10 m, presupposition play or the paste to no, the quality really see not bottom go to, but don't want to because Netflix in browser to watch it, Find ways to force 1080p on Netflix library.

Why are Chrome and Firefox not supported?
There is a rumor abroad that the main reason is that Netflix adopts 1080p DRM certification, which requires each browser developer to pass the MPAA certification additionally. However, Chrome and Firefox do not apply for this certification, so they cannot support 1080p resolution.
Netflix supports resolution
Google Chrome

Up to 720p for Windows, Mac, and Linux

Chrome OS runs at 1080p

Internet Explorer up to 1080p

Microsoft Edge is available in 4K*

Mozilla Firefox up to 720p

The Opera is up to 720 p

Safari on Mac OS X 10.10.3 or later is up to 1080p.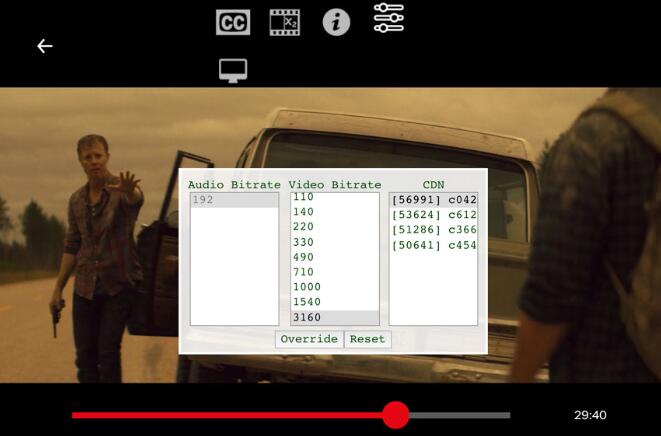 Chrome can't solve the problem of Netflix's 1080p high picture quality method.
From the official support list, it seems that it can be found that the highest value of Netflix on Chrome is 1080. There is still a way to break through. In this case, we need to rely on two sets of "Super Netflix" and "Netflix 1080p" extension plug-ins to match each other.
Extend the functionality
Browser: Google Chrome
Download from Chrome online store: Super Netflix | Netflix 1080p

I'm sure many people are wondering why you can control the resolution menu by installing Super Netflix, but why do you need to add the expansion of Netflix 1080p? The main reason is that the developer of Super Netflix was warned by Netflix, telling him: "please do not make this feature, and this feature is illegal behavior." As a result, the developers of Super Netflix had to hide this adjustment. They could only unlock this option through Netflix 1080p and call it out through the shortcut key of Ctrl + Shift + Alt + S.
At present, under the subsidy of Super Netflix and Netflix 1080p Chrome can be said to make up for the inhuman part of Netflix. Generally speaking, it can be seen that why Netflix does not add this feature, because there are many films with the highest resolution (like transformers) only 480p or 540p, so the function should be blurred.
However, somehow it feels like Netflix is doing something a little like iOS used to do? Super Netflix and Netflix 1080p are like plugins after jailbreak. It is interesting to see that developers need to write plugins to break the limit.